Zoho CRM won the Business Choice Awards of PCMag magazine in 2019.
We are pleased to announce that PCMag, one of the leading online magazines in the world of online technology, has named Zoho CRM the winner of the Business Choice Awards for CRM in 2019. After the award, PCMag also named Zoho CRM - the editorial choice in 2019. The Business Choice Award speaks to the trust of users around the world as it reflects the result of a long history of interaction with users and is a recognition from both critics and users.
Zoho CRM received the highest overall satisfaction score (7.4) and was the only one to achieve a positive NPS score among all submitted nominees.
 The choice of Zoho-CRM edition is based on readers' feedback. Readers rated it as the best in terms of reliability, ability to work with lids, customizable reports and workflows, as well as integration with e-mail and social networks.
 Figures from survey results:
Zoho was the most recommended CRM by PCMag survey respondents with a score of 8.0, marginally ahead of Salesforce and other leading CRM providers.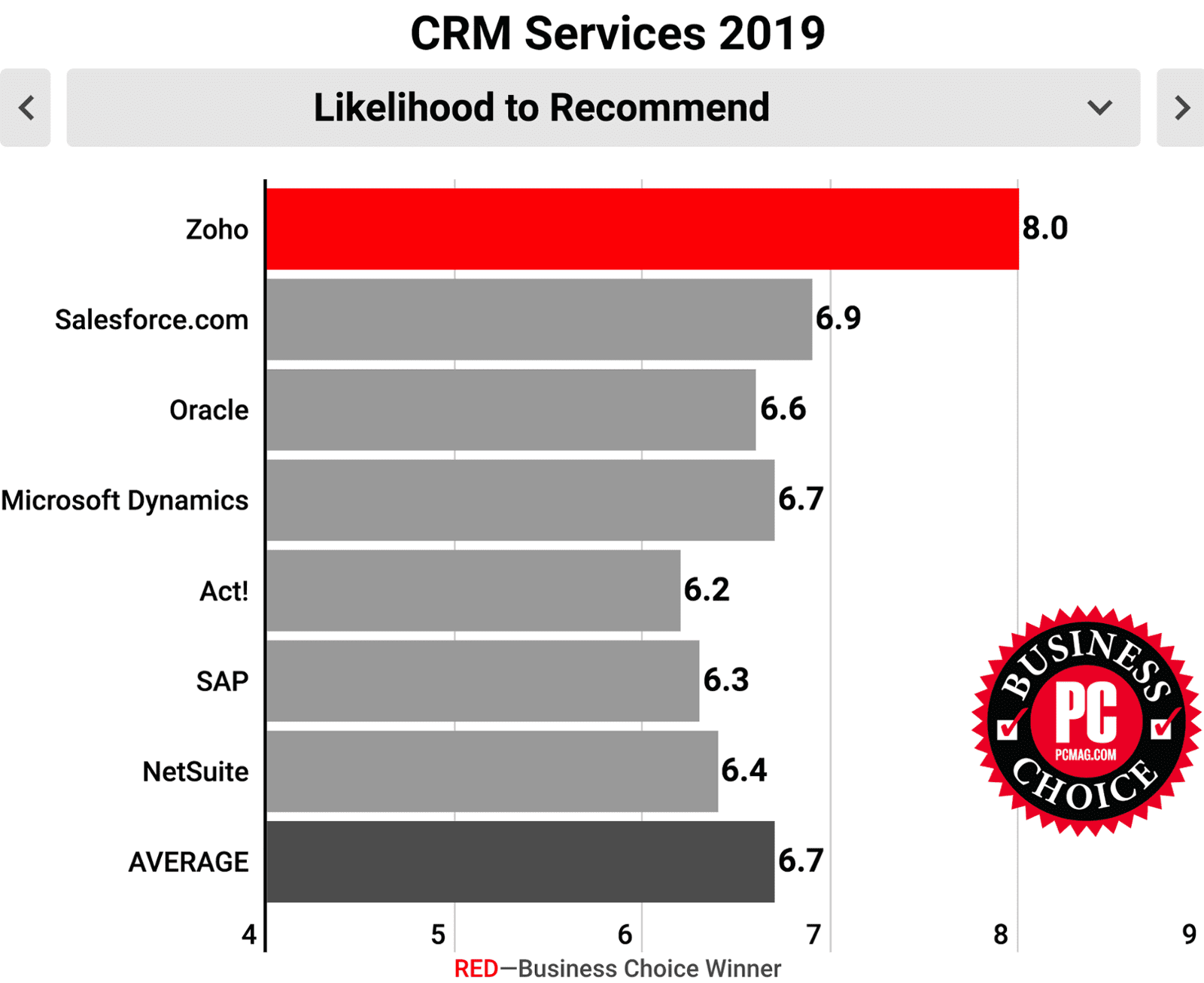 Zoho CRM also scored 8.0 or higher in categories such as reliability, integration with the mail provider, working with lids, email tracking, and integration with social networks. Other ISPs failed to score more than 8.0 in any of these categories.


Zoho CRM mobile apps for iOS and Android received a maximum score of 8.5, while Salesforce and Microsoft Dynamics shared second place with 6.6, followed by Oracle with 6.5.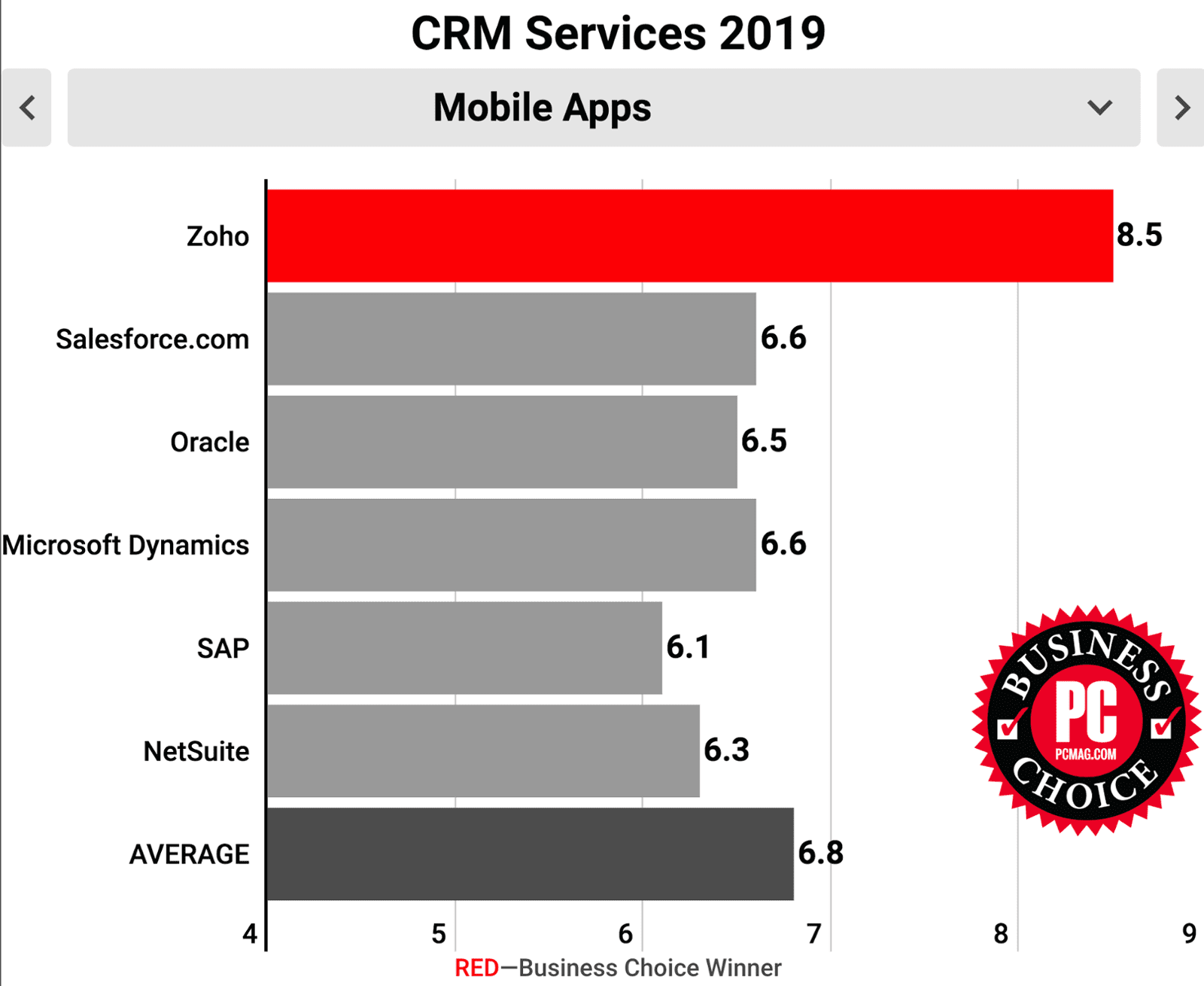 Transparent pricing and competitive prices, as well as the high value that Zoho CRM provides, was highly rated by respondents, which led to it being nominated as the best choice with a score of 8.2, followed by Microsoft Dynamics with a score of 6.4 and NetSuite with a score of 6.0.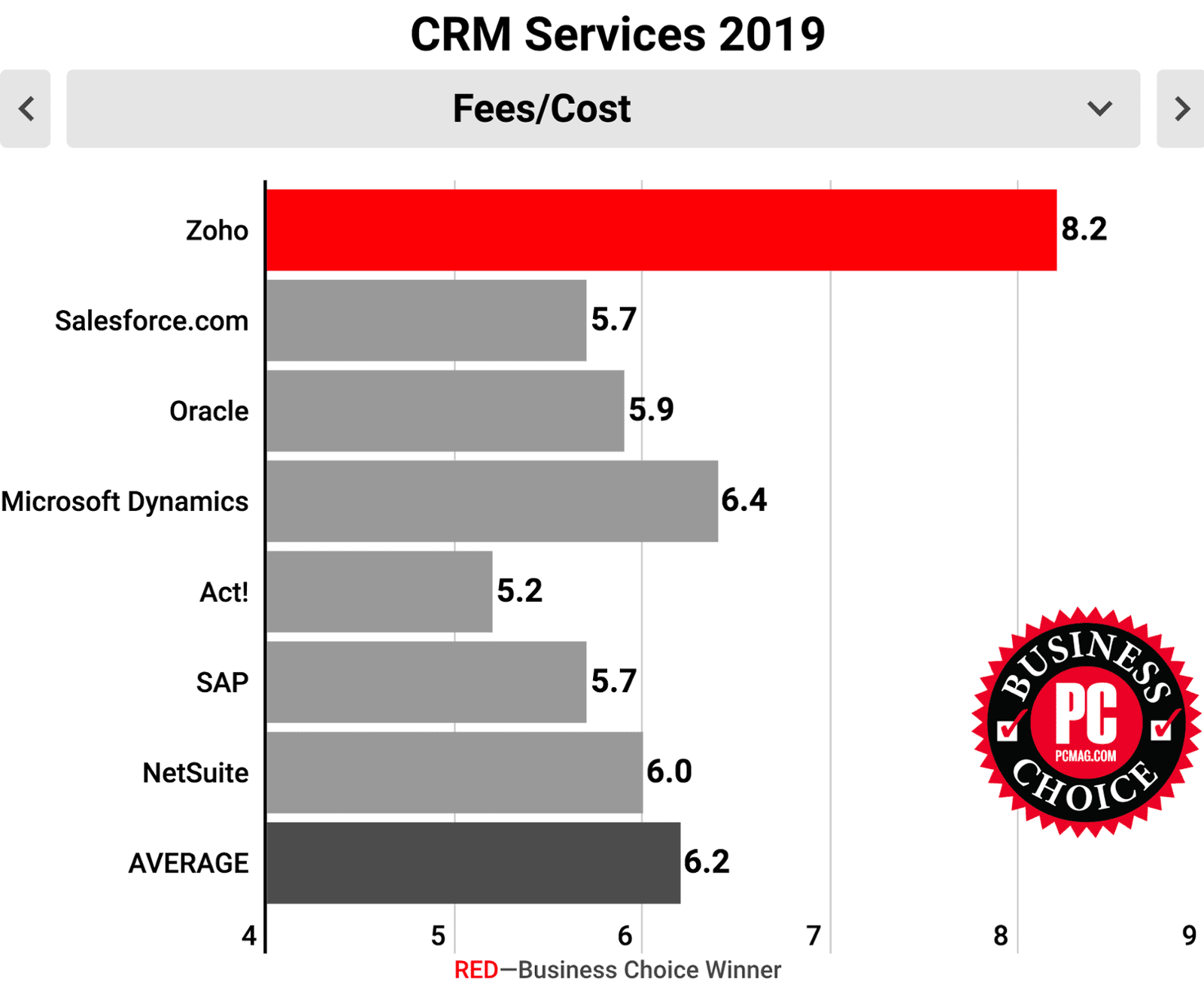 The results of the rating show the trust of Zoho users and continue to prove that those who use Zoho like it.
You can read the full review on the official PCMag Business Choice Awards page.
https://uk.pcmag.com/zoho-crm-professional-edition/121212/business-choice-awards-2019-crm#
PCMag Business Choice for CRM survey was conducted from May 13, 2019 to June 3, 2019. You can find the survey methodology here: https://www.pcmag.com/article/365691/readers-choice-business-choice-survey-methodology-2019.