Google Routes For Zoho CRM
extension
Google Routes To CRM extension is an app that allows using a widget with Google Map API in Zoho CRM modules. It allows to create markers of location and build routes directly in the records of these default modules - Leads, Contacts, Accounts, Deals, Sales Orders, Purchase Orders (you can't use this widget for Custom Modules). The flexibility of settings allows mapping fields according to your requirements. The extension setup process requires creating an API key in Google Cloud Console and enabling a billing account.

- Add a marker on the map with the location of a record;
- Set a marker on the map and fill in the address information of the record;
- Customizable fields mapping for more flexible usage of extension;
- Building routes on the map using subform with addresses;
- Trigger workflow/blueprint/approval on address saving.
3 easy steps to set up Google Routes For Zoho CRM extension:
1. Install the App. Specify your Zoho CRM token (OAuth).
2. Set Zoho and Google Routes extension settings
3. Sync chosen data to your Zoho CRM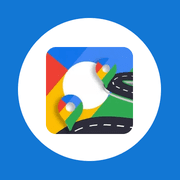 You can use this extension:
- mark locations of the map;
- to build roots in your CRM;
- to find a location by address;
- and so on;
Feel free to contact us by email: [email protected]
Google Routes For Zoho CRM extension FAQ